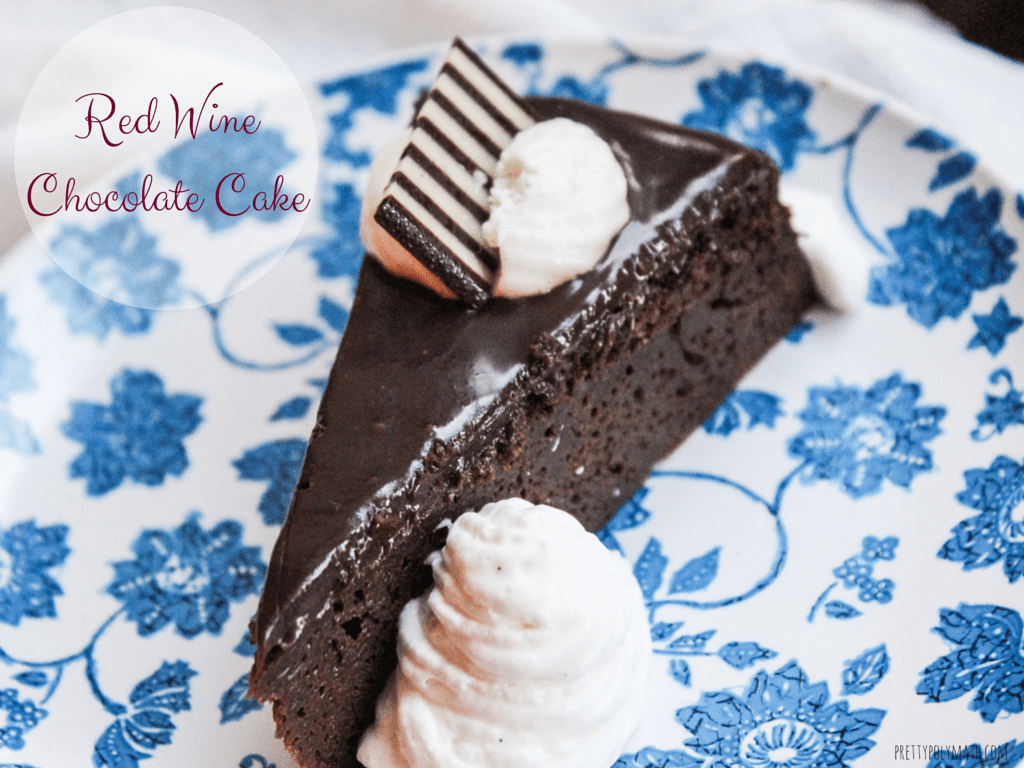 This weekend the startup I work for, Decisive Health, won the Livestrong Big C Competition! It was a competition for healthcare startups who are innovating patient-centered care and we were chosen as the People's Choice winner and final winner receiving $25K in funding! Now you can't have a celebration without cake, so I decided to make a yummy chocolate cake. Unfortunately, I didn't have any buttermilk, but I did have a bottle of red wine that was gifted to me. I'm not a drinker, but I definitely am a big baker and scientist! Buttermilk is usually used in cake recipes as it is acidic and it reacts with the baking soda creating tiny little bubbles giving you a nice tender cake. Well, red wine is also acidic, so there is my substitute. The alcohol bakes off in the high temperatures and you're left with this fudgy delicious cake. The dark chocolate ganache added a little richness to the cake and it turned out so frickin' good!  My co-workers practically inhaled this stuff. So if you have a bottle of wine and don't know what to do with it, turn it into a cake. Cake > wine. At least in my world.
Red Wine Chocolate Cake
Ingredients
For the Cake:

6 tbsp unsalted butter, softened
2/3 dark brown sugar
2 tbsp white granulated sugar
1 large egg + 1 large egg yolk
3/4 cup red wine, any kind you like
1 tsp vanilla extract
1 cup + 1 tbsp all-purpose flour
1/2 cup cocoa powder
1/8 tsp baking soda
1/2 tsp baking powder
1/4 tsp salt
1/4 tsp ground cinnamon

For the Dark Chocolate Ganache Glaze:

70g dark chocolate
60g heavy cream
Instructions
Pre-heat the oven to 320 F
In a large bowl, cream the butter until it's smooth. Add the brown and white sugar and continue creaming for 2 minutes until fluffy. Add eggs, red wine, and vanilla extract and mix well. You batter will look a little weird here, don't worry about it!
Sift the flour, cocoa, baking soda, baking powder, salt and cinnamon into the butter mixture. Mix until the batter is well combined and smooth.
Pour the batter into a greased 9 inch round cake pan and bake for 25 to 30 minutes, or until a toothpick comes out clean. Cool on a rack.
While the cake cools,heat up the heavy cream over the stove until it stats to simmer. Pour the heavy cream into the bowl of chocolate and let this sit for 2 minutes. Stir the mixture until it turns into a silky chocolate mixture. Set aside to cool.
Once the cake and ganache are cool, pour the ganache over the cake and spread evenly. Refrigerate to set the ganache. You can serve your cake with a side of whipped cream like I did, or on it's own. Enjoy!
Notes
http://www.prettypolymath.com/2014/10/21/red-wine-chocolate-cake/