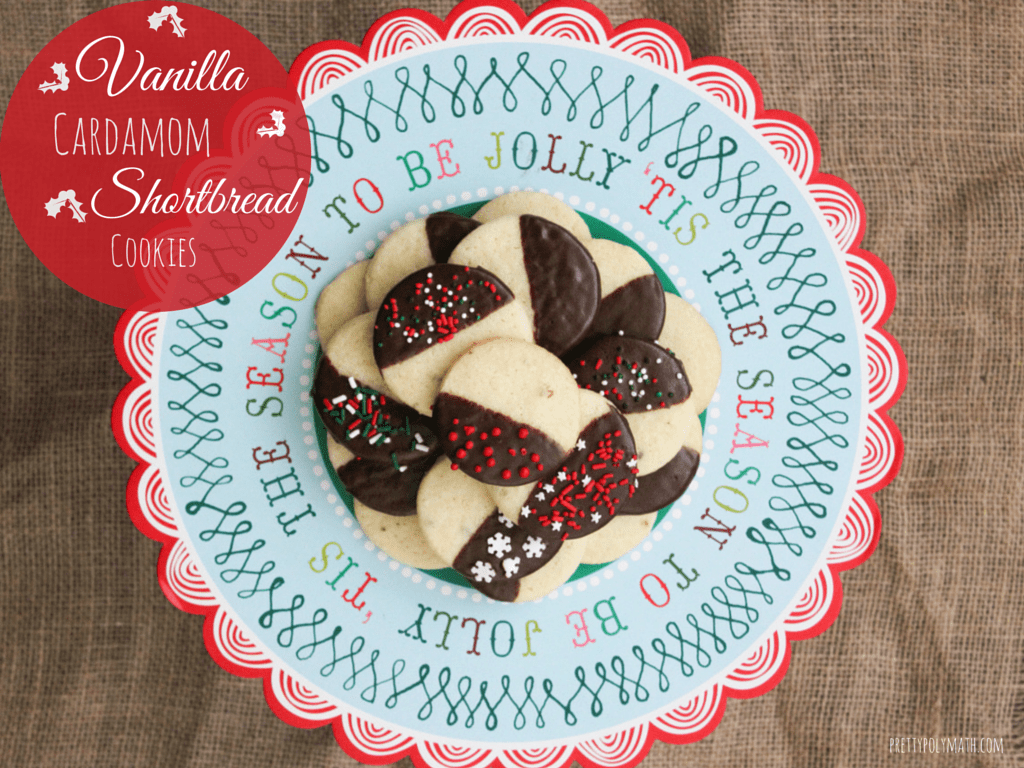 This year I decided to partake in The Great Food Blogger Cookie Swap! In order to participate you just have to donate $4 to Cookies for Kid's Cancer and you'll be paired up with 3 other food bloggers. You send each blogger a dozen homemade cookies and you receive a dozen homemade cookies from 3 other bloggers! How amazing is that! This year we raised a little over $12,00o with the help of our sponsors OXO, Dixie Crystals, California Olive Ranch, and Brownie Brittle who matched our donations.
I decided to make these yummy aromatic cardamom shortbread cookies for my matches, Taste Cook Sip, Crackers on the Couch, and Let's Give Peas a Chance. I received yummy chocolate chip mandelbrot from Take a Bit out of Boca (so good with my coffee!!), peanut butter oreos from The Crafting Foodie and wild hibiscus salted dulce de leche cookie tarts from Flamingo Musings (life changing). Check out their website today for their recipes!
Cardamom has to be my favorite baking spice, it's sweet, subtly spicy, and smells amazing. These cookies are very easy to make and only require just a few ingredients. You can dip them in melted milk or white chocolate like I did or eat them on their own. They go perfectly with a nice cup of tea (preferably chai) or hot cocoa. They are buttery, nutty and smell amazing. Try the for yourself!
Vanilla Cardamom Shortbread Cookies
Ingredients
1/2 cup blanched almonds
3/4 cup sugar
14 tbsp soft butter
1.5 cups all-purpose flour
1 egg
2 tsp vanilla extract
2 tsp ground cardamom
Instructions
In a blender, pulse almonds until fine.
Mix sugar, butter, all-purpose flour and almond flour until well combined. Mix in the egg.
Take dough and shape into a fat disc and cover with saran wrap. Freeze for 1 hour.
Roll out the dough with a rolling pin until 1/4 inch thick. Cut out circles with a cookie cutter (or whatever shape you want!) and place on a non-greased baking sheet about 1-2 inches apart since they will spread.
Bake at 400 F for 8 minutes or until the bottoms JUST start turning brown. Cool on a rack. You can then eat them plain or dip them in melted chocolate and add some festive sprinkles. Enjoy!
Notes
- If you plan on using cookie cutters then you might want to freeze the dough for 5 minutes in between rolling out the dough to help the cookies keep their shape
- You can also just squish the dough down in a 9x13 sheet pan and poke with a fork and bake for 10-13 minutes. Let it cool and then cut into bars!
http://www.prettypolymath.com/2014/12/15/vanilla-cardamom-shortbread-cookies-for-the-great-food-blogger-cookie-swap/